10 Best Minimalist (Slim) Wallets for Men You Will Be Happy To Own
Minimalist wallets (a.k.a slim wallets) have risen in popularity in recent years. Men are streamlining and downsizing their wallets in an effort to carry less. In this guide, we're going to review the best minimalist wallets for men, their pros and cons as well as other quality indicators and metrics.
In fact, two decades ago, cash was king and business cards were prevalent. Bulky wads of cash have been replaced by chip-enabled debit and credit cards, and business cards are falling by the wayside. If you are looking for a new slim wallet that will hold all of your cards, this guide will show you the best slim wallets for men on the market today.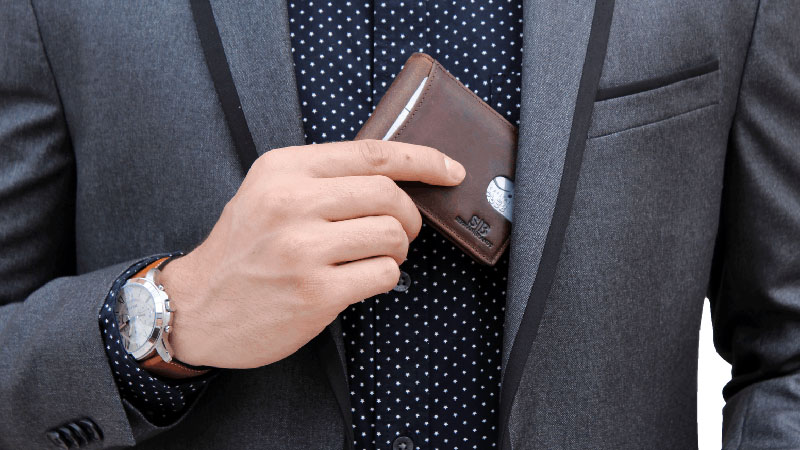 ALSO READ: Best Laptop Bags For Men – Top 10 Most Stylish & Essential
How To Pick The Best Minimalist Wallets for Men
There are a lot of factors to consider before purchasing a new wallet. Your budget and price range have a direct impact on the type of wallet you choose to purchase. The brand name of the wallet and materials used to construct it are also important to consider.
Furthermore, the unique features and design of the wallet, as well as the color, need to be taken into consideration when choosing from the various slim wallets for men available in the market.
Budget And Brand
Arguably the biggest decision affecting your purchase of a new minimalist wallet is the amount of money you would like to spend on it and what brand names you enjoy.
Also, many men purchase a slim wallet based on its features, look, design, price and color; but a large number of men are also very loyal to a particular brand. If you love brand names and have an unlimited budget, you can invest in a luxurious calfskin leather wallet that is hand-crafted and made to last.
On the lower end of the budget, you may be looking for a wallet made from ripstop nylon that will last you for a season or two.
Design
The best minimalist wallets for men offer function, fashion and features that make them stand out from the crowd.
From RFID technology to built-in money clips and clear ID windows, functional features are just one of the many ways that top-selling slim wallets for men stands out from their competition.
The best minimalist wallets for men will differ greatly from what you prefer. Some men like slim wallets with a tri-fold type of organization, while others enjoy a slim and streamlined card case with just a few card slots.
Color And Material
Some men are drawn to a particular color when it comes to selecting the best minimalist wallet. They prefer a wallet in a neutral color that will complement their work wardrobe, for example.
On the other hand, other men like their slim wallets in darker colors because they do not show dirt as much as lighter-colored wallets.
Likewise, material is also an important feature to consider. Hand-crafted leather wallets, with reinforced stitching, will last far longer than a nylon billfold. Some men like to shop for a minimalist wallet with quirky insignias, sports logos or graphics from their favorite television show or movie.
Why Choose A Minimalist Wallet?
The best slim wallets for men will offer streamlined looks and silhouettes with lots of functional features.
In addition, many men are choosing minimalist wallets because they are simply tired of carrying around a bulky, overstuffed wallet that is full of receipts, unused cards, ticket stubs and notes on little slips of paper.
As a matter of fact, if you do a lot of traveling for business or leisure purposes, a minimalist wallet gives you security and peace of mind. You can put it in your front pocket while at the airport or on the subway to prevent theft.
Not to mention, some of the best minimalist wallets for men are ones with has a secret storage compartment. You may prefer a wallet with a detachable money clip, secret pocket or slide-out features that give you more bang for your buck.
Therefore, minimalist wallets force you to carry around only the essentials. Thus, you will not have to carry around a weighty wallet anymore with a slender style.
Equally important, slim wallets for men are virtually undetectable in your pocket, so you minimize the risk of being a victim of theft with a minimalist wallet. Additionally, the best minimalist wallet for men is one that offers RFID protection and is constructed from lamb leather.
Nevertheless, you may have very different requirements when it comes to selecting the best slim wallet. Here are 10 of the best (minimalist) slim wallets for men available on the market today.
And The Best (Minimalist) Slim Wallets For Men Are?
CLICK FOR PRICE
Pros:
Available in three different types of leather: crosshatch, vegetable-tanned and napa
Comes in a huge range of available colors: from neutral to fashion-forward hues
Travelambo offers a one-year warranty. Defects during production and delivery are fully covered. You can receive a free replacement or full refund of your purchase price
One of the thinnest slim wallets for men: only .12-inches thick
Premium RFID-blocking technology: independent lab test proves this wallet it effective in blocking the transmission of data for 13.56 MHz frequencies
Credit cards, most ID cards, debit cards and driver's licenses with chip-enabled cards and barcodes are protected from illegal scanning
Six card slots
Low cost for a good quality leather wallet with hand-crafted workmanship
Cons:
Some ID badges, access cards, garage key cards and hotel room cards that operate in 125 KHz cannot be blocked by the RFID technology in this Travelambo wallet
Cannot fit many more than six cards in the wallet without compromising its structure
CLICK FOR PRICE
Pros:
Four card slots comfortably hold up to eight cards
Detachable brushed steel money clip for carrying cash
Top-grain durable leather for the wallet portion
Outside ID pocket is perfect for men who travel a lot
This minimalist wallet for men fits comfortably in front or back pockets of pants or jeans
F&H logo has a sleek look that complements the detachable money clip
One-year, hassle-free warranty
Cons:
Few colors to choose from
Moderately priced
No RFID protection
CLICK FOR PRICE
Pros:
Bi-fold style
Supple genuine horse leather construction
Affordably priced
Tonal embossed logo blends flawlessly with the design and construction
Three designated card slots, one ID window, two larger functional slots and a big center slot for cash and receipts
Hassle-free return and exchange policy
RFID blocks 13.56 MHz frequencies for credit and debit cards with chip-enabled technology
High marks in all categories for best slim wallets
Great price point: affordable for the quality you receive
Cons:
Does not block frequencies transmitted by hotel cards, some key cards and subway terminal cards
Moderate number of color choices available
CLICK FOR PRICE
Pros:
Uses four rare earth magnets to hold on to your cash safely and securely
Comes in a wide range of color choices
Genuine supple horse leather construction
Three designated card slots, two large functional slots and a clear ID window
Blocks 13.56 MHz frequency from illegal scanning devices
Offers a full one-year replacement guarantee
Can safely and securely hold up to 20 bills without falling out
Great, affordable price for the quality workmanship you receive
Cons:
Does not block transmissions from the following cards: hotel keys, transit cards and some student ID cards
CLICK FOR PRICE
Pros:
Designed in Britain of high-quality Italian leather: durable and sleek when it comes to function and style
Blocks RFID electronic theft up to 13.56 MHz for most credit, debit and ID cards
Three distinct pockets hold up to 10 assorted cards
On-board smart strap lets you quickly access your cards then retracts to its original position when not in use
Comes packaged in a ready-to-give gift box for any occasion
Cons:
In the moderate price range
Very few color options
CLICK FOR PRICE
Pros:
Seven handy pockets hold up to 14 debit or credit cards: one pocket on the exterior and six pockets inside
RFID blocking technology protects all cards in the wallet up to the standard 13.56 MHz: good for credit and debit cards, most state ID cards and some key cards
Full integrative money clip holds your bills securely in place inside the wallet
Designed in Germany from top-quality, durable materials
Extremely slim wallet for men fits effortlessly in front and back pockets
Unique thumb notch gives you quick and easy access to cards and bills
Very lightweight
Cons:
In the moderate to high price range
Very few color options
Durable, but non-leather materials may break down over time and with excessive use
CLICK FOR PRICE
Pros:
The original best slim wallet for minimalists: designed in Los Angeles in 2014
Ultra slim design
Six card slots and one large compartment to put bills or receipts
Anti-breach RFID technology: cards, licenses and some badges are all completely protected from electronic theft
Designed to be small enough to wear in front or back pockets
Tonal embossed logo complements the design well
Very affordable
Cons:
Very few color choices available
Does not block transmission of frequency for hotel key cards, some ID badges and transit cards
CLICK FOR PRICE
Pros:
Patent-pending design with a one-year warranty
RFID technology protects up to 13.56 MHz from illegal scanning: works for credit and debit cards, some ID cards and some key cards
Made from soft and supple full-grain leather
One quick-access ID window and 6 to 8 cards will fit
10 bills fit comfortably inside
Unique pull-tab design reduces bulk and fans your cards out in an effective and easy-to-see way
Cons:
Few color choices available
No RFID protection for hotel key cards, some ID Badges and transit cards
Moderately priced
CLICK FOR PRICE
Pros:
Made from strong and durable microfiber: resists water and has a very thin and sleek design
Bi-fold design holds up to 8 cards and multiple bills with ease
Front ID pocket
Designed in London
RFID technology blocks up to 13.56 MHz transmission: full protection for credit and debit cards with chip-enabled technology, ID cards and some key cards
Money-back guarantee from a family-run business: hassle-free refund or replacement
Great for eco-conscious or animal-loving people: no animals were harmed in the making of the Huskk minimalist wallets for men
Cons:
Does not block RFID transmission for hotel key cards, some ID cards and some transit passes or cards
Very few color choices available
Has experienced many different re-designs and changes lately
CLICK FOR PRICE
Pros:
All medical-grade elastic and genuine leather construction
Very versatile: carry as a traditional wallet, or wear it on your belt or neck strap
Pull the elastic to extract your cards: all cards are kept safe and secure inside elastic
Holds six to eight cards plus cash
No-hassle returns: family-run company and operation
Many classic and fashion-forward colors to choose from
Mid-range price point
Cons:
No RFID-blocking technology
Company changed its name recently: you could get a product embossed with either eBax or vBax
And The Best Minimalist Wallets for Men Winner Is?
When it comes to selecting the best minimalist wallet, each person will have a different set of criteria and characteristics that they deem important must-have features. When you compare these top-rated slim wallets for men choices, they have a lot of similarities that make it hard to choose a clear-cut winner.
However, taking into consideration the price, available color choices, RFID protection, overall style, the money-back guarantee option and amount of cards and bills it can hold, the NapaWalli Genuine Leather Magnetic Front Pocket Money Clip RFID Wallet wins by a small margin.
And this is based in part that it has four safe earth magnets; whereas most wallets with this technology only have two. Also, it comes in a wide variety of colors and is offered at a modest price point. It definitely sits at the top for the best slim wallets for men; but it may not be the best minimalist wallet for you if you prefer non-leather options.
What's your take? Do you own any of these slim wallets for men? Let us know your thoughts and suggestions in the comments below.
Tags :
ebax mens bifold minimalist slim front pocket wallet
ebax minimalist slim wallet review
ebax minimalist wallet review
ebax slim wallet
ebax wallet bifold
ebax wallet review
ebax wallets
f&h signature money clip slim wallet in top grain leather reviews
f&h signature money clip slim wallet review
f&h wallet review
forrest and harold discount code
forrest and harold slim wallet review
forrest and harold wallet amazon
forrest and harold wallet discount code
forrest and harold wallet reviews
front pocket wallet rfid
hammer anvil los angeles
hammer anvil rfid blocking genuine leather front pocket wallet card case brown
hammer anvil rfid safe wallet
hammer anvil wallet review
hammer wallet
huskk card sleeve wallet
huskk front pocket wallet
huskk ultra slim bifold leather wallet
hussk wallet
mens front pocket wallet with money clip
napawalli money clip
napawalli review
napawalli rfid
napawalli wallet
napawalli wallet review
serman brands wallet review
simpac wallet review
travando carbon fiber wallet
travando rio wallet
travando slim wallet london
travando wallet amazon
travando wallet london
travelambo front pocket minimalist leather slim wallet rfid blocking medium size
travelambo passport wallet
travelambo review
travelambo rfid front pocket minimalist slim wallet genuine leather small size
travelambo rfid front pocket wallet
travelambo rfid wallet
travelambo womens wallet
vaultskin chelsea review
vaultskin chelsea wallet
vaultskin city wallet
vaultskin london wallet
vaultskin wallet review