How to Wear a Denim Jacket Like A Superstar
When it comes to how to wear a denim jacket, there are many choices; and we'll review them in this piece.
Denim jackets and shirts are special in that they will stay in fashion for a long time. You will want to throw it away, not because it is worn out, but because it has stayed around for so long and you are tired.
However, getting tired of it may be hard considering its agelessness. Denim seems to have American origin, but its roots are actually in late Middle-aged Europe.
The specific place of origin is unknown, though Nimes, Southern France may be probable since it corresponds to the name Denim.
The initial purpose of denim was to re-use discarded pieces from the factory to create casual wear. But the denim jacket is now standard and not just a casual item.
For instance, to spice up your look, you can wear your denim jacket under a dark overcoat. So let's take a look some styling choices.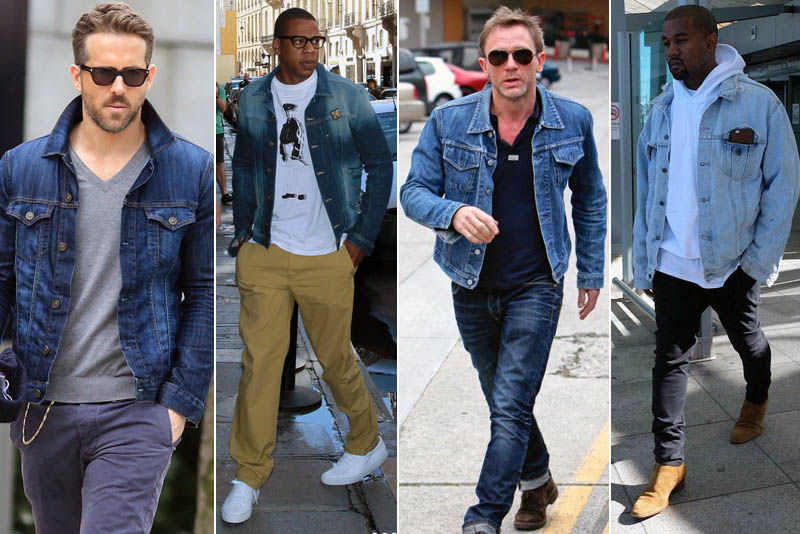 Style Options
Denim actually fluctuates in and out of fashion. It was in fashion during the late 20th century, but then fell out at the start of the 21st century.
The casual look, especially of East London casual has had a massive rebound. Cable-knit sweaters and ankle boots imply an urban-western look.
Suitable Size
The most common styles for denim jackets include a generally not tight fit. This allows ease and comfortability. But denim jackets are in fact supposed to be well-fitting, especially on the shoulders. This may appear constricting, but it is actually good for a cold winter as well as an excellent look for the summer season.
Since denim is not a stretchy material, the cut and fit should be perfect when buying it. The cut should be well on the waist, not too long or short. You should also consider a slim outfit as a more compatible fit with the jacket.
For loose denim jackets, the effect is a simpler free look. Which may be quite good with a hoodie beneath. Darker shades like grey and black are ideal for the baggy sort. A pair of Chelsea boots or trainers is a perfect finish.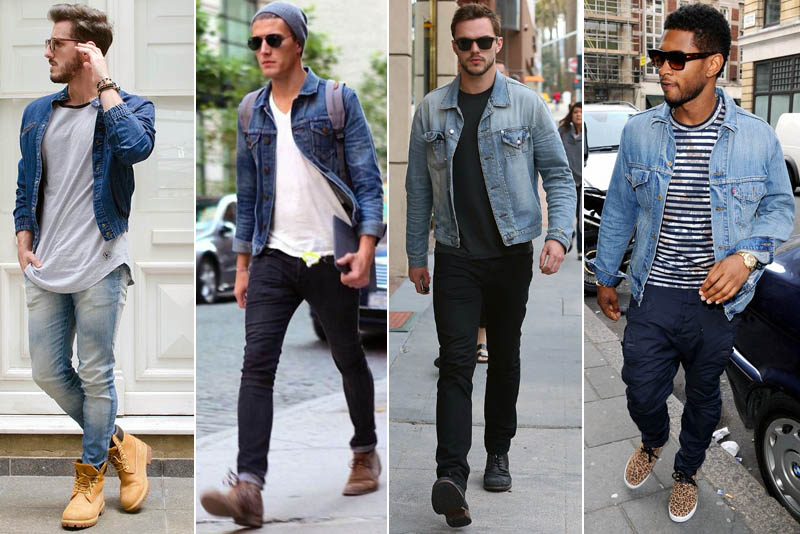 What to Wear with Denim Jacket
Now we consider the total outfit and what to wear with denim jacket.
A simple look to pull off is a bright T-shirt, dark jeans, some boots and a dark blue denim jacket would be a perfect outfit for going out.
The Tone
This is an important aspect to consider for your outwear. There is the popular black, the duller shady grey and the all-time light blue. We will help you choose the right shade for the occasion.
Grey is quite captivating, with its dark hue as well as bringing some light theme into your dark jeans. It is quite favorable with most styling options.
There is the raw blue, darker than the classic light blue. The two shades are quite ideal. But the dark blue jacket creates a better look during the cold winters and early autumns while light blue is the ideal look to pull off in the summer.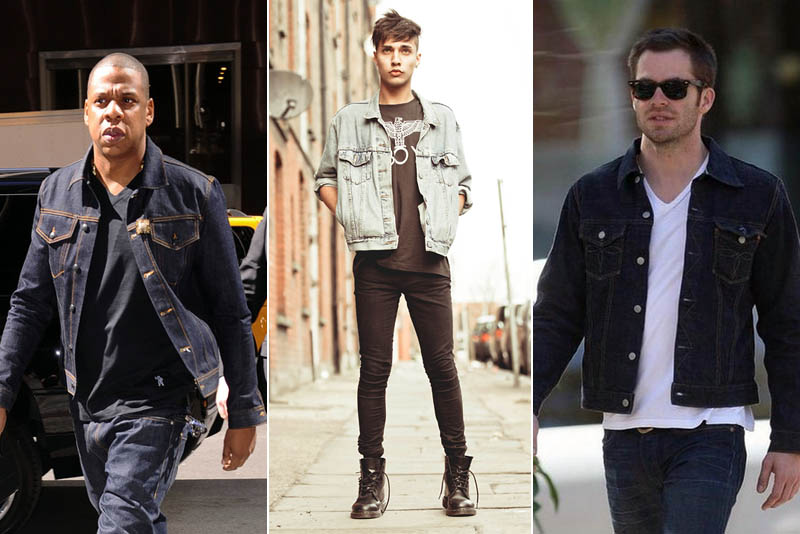 To get a classic lumberjack look, put on a checked T-shirt underneath and some nice fitting jeans to go with. The black outfit is quite famous. Black jeans, a pair of black shoes, a shirt and a black denim jacket, is the perfect professional delectable celebrity look.
For men, a black denim jacket can be a good replacement for an official dark blazer or a leather jacket. The beauty of the black color is its compatibility with almost any of your outfits.
For a total-black occasion, the black leather jacket for men is ideal. A black or white shirt, a pair of dark jeans for a dual-denim vibe and black official shoe wear is a good boost to your formal appearance.
Light blue color typically spells the working jeans. It is quite common. A darker blue denim jacket gives a more serious and formal look. A different color may be added to give a fashionable look.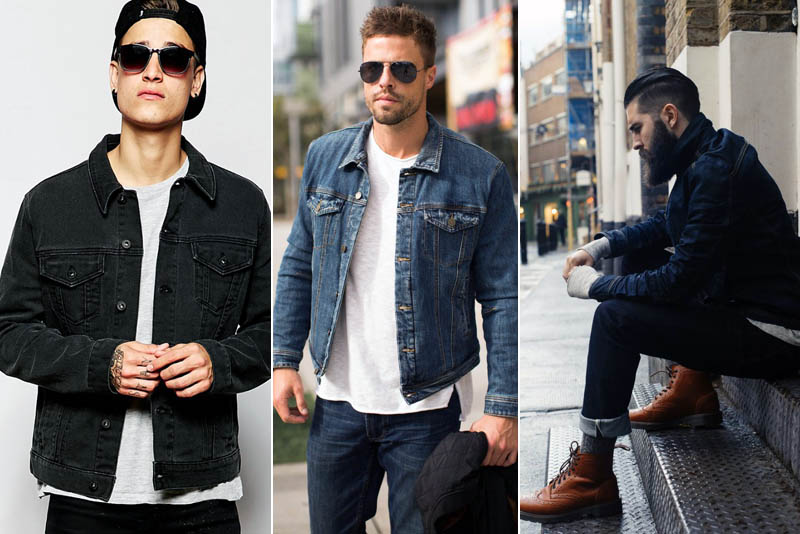 The Outfit Selection
Since there are all sorts of colors on denim jackets, it is important to specify the details of what to wear with each type.
The selection of a combination with a denim jacket is quite simple, regardless of the look you want to pull off.
Denim is a simple light but strong material. It usually requires another layer, especially a sweater or jacket beneath to warm you better during the cold months.
If you would love to wear your denim jacket at any time, the cold autumn or winter is not a barrier. Finding a jacket with some space for another layer of the sweater is the solution.
Strange as it sounds, a blazer can be worn on top of a denim jacket too. This gives a cool trending look during the cold seasons. A T-shirt, jumper or hoodie and a blazer over your denim jacket is the ultimate layering experience.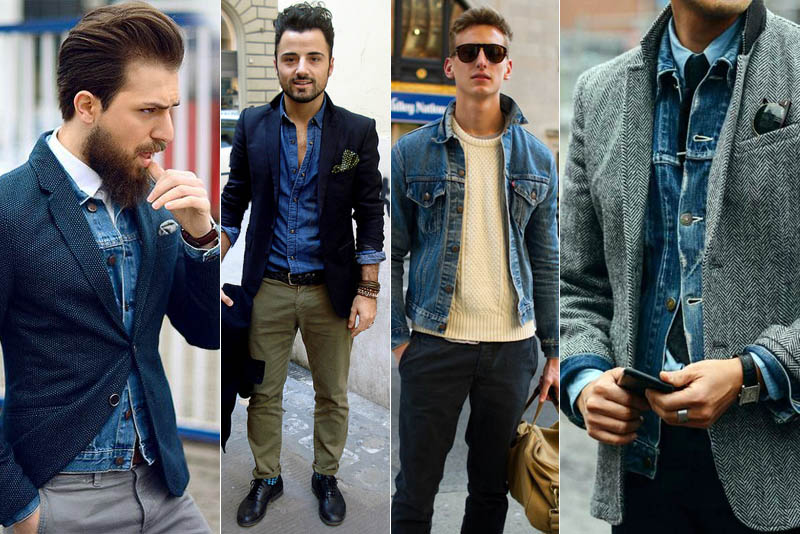 The Additional
We have discussed the outfit style for denim jackets, but there is more.
Detailed accessories are also part of the great modern look. A seamed cap, for instance, is a great detail to add to your outfit when going out during the cold periods.
A pair of dark suede Chelsea boots can be a good switch for your casual trainers.
The suede leather gives a tinge of suppleness and is well compatible with a total black outfit.
Final Tips on How to Wear a Denim Jacket
Here is a quick overview of the perfect wear for the cool denim jacket.
Find a well-fitting denim jacket. Though baggy denim is sometimes worn, it creates an uncomfortable appearance. A good fit gives a nice tone, especially paired with slim T-shirt and jeans.
Employ different colors and shades. The light blue, average grey or dark blue and black are the most common.
A furry denim jacket is a wise choice for autumn and winter wear. You can still pull off a cool look in the cool times.
Cotton-twill trousers and ankle high chukka boots are a smart addition to your leather jacket for an easy-going combination.
For Spring wear – a good patterned T-shirt, a pair of trainers and a darker tone of denim jacket is the perfect Spring look for you.
Tags :
What to Wear with Denim Jacket